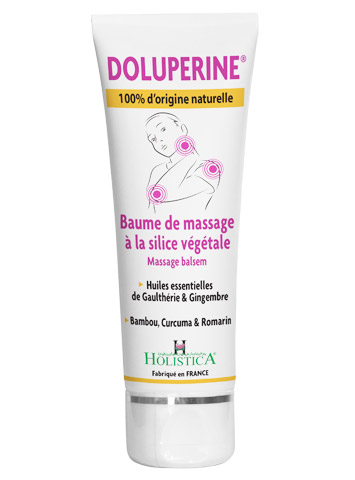 75 ml «AIRLESS TUBE»
N° ACL 3477280001541
DOLUPERINE massage balm
HERBAL EXTRACTS AND ESSENTIAL OILS
100 % natural massage balm with vegetal SILICA.
ULTRA STRONG BAMBOO EXTRACT naturally RICH IN SILICA, SILICIUM-DIOXID-free.
WINTERGREEN gaultheria & ginger essential oils.
turmeric extract (95 % curcuminoïds) rosemary extract.
MUSCULAR AND JOINTS MASSAGE AFTER-SPORT, FOR SENIORS, AND AS COMPLEMENTARY CARE FOR PEOPLE REQUIRING ORAL DOLUPERINE CAPSULES INTAKE.
Natural massage balm for muscles, joints, back...
Formulated with 100% natural ingredients, with powerful and concentrated herbal extract, DOLUPERINE BALM is free from any preservative and nanos thanks to high amounts of essential oils and an innovative airless tube. More than 2 years Research & Devlopment have been required to offer this right balance of high concentration of active ingredients, easily absorbed by skin, and offering a soft touch and wellness feeling after application. It could be recommended to use DOLUPERINE capsules in association with this DOLUPERINE balm.
Ingrédients
AQUA, BAMBUSA ARUNDINACEA STEM EXTRACT, ROSMARINUS OFFICINALIS LEAF EXTRACT, BUTYROSPERMUM PARKII BUTTER, GAULTHERIA PROCUMBENS LEAF OIL, GLYCERYL BEHENATE, CERA ALBA, ZINGIBER OFFICINALE ROOT OIL, CITRIC ACID, XANTHAN GUM, CURCUMA LONGA RHIZOME EXTRACT, TOCOPHEROL,  CITRAL*, CITRONELLOL*, FARNESOL*, GERANIOL*, LINALOOL*, LIMONENE*. * Naturally occuring in essential oils. Preservative-free.
Advices for use
Apply about 2,5 g twice a day on muscles, back or joints and massage. Use on healthy skin. Avoid contact with eyes and mucous membranes.
Although the demand for Silica/Silicium is high on the market, it's hard to find exclusively natural silicas, synthetic-preservatives-free. To remain consistent with our philosophy, Holistica choosed a 100 % natural origin silica, extracted from Bamboo, the vegetal source that contains the highest concentration of silica (10 times more than horsetail and tens more than nettle) instead of using synthetic silicium like organic or colloïdal silicium (most of the time a nanoparticle), Silanols, Monomethylsilanetriol, or even synthetic preservatives like Methylisothiazolinone or Parabens that we never use.
DOLUPERINE VEGETAL SILICA BALM is the first product guaranteeing a 800 mg application of vegetal silica for 5 grams a day, associated to all the benefits of wintergreen and ginger essential oils, and to turmeric extracts (95 %curcumin-concentrated), that make DOLUPERINE brand notorious and successful. Finally here is a balm allying concentrated vegetal silica to these plants benefits.
Natural origin components

VEGETAL SILICA FROM BAMBOO
From Poaceae (Graminacées) family, bamboo is characterized by stems made of an hollow lignified stubble with a very fast growth. The size of stems vary according to the species from less than a meter to 30 m. Thanks to the internodes flexibility of its hollow stubbles, bamboo quasi never break but bend under the action of wind and snow. Much more than horesetail or nettle, it's the known vegetal source the most silica-rich, that make it exceptionally resistant and flexible.It draws silicium (silica part) in the ground and transform it.
Silica functions for the plant are numerous : hydratation maintenance, protection against toxic elements or undesirable ones, growth, structure resistance, giving stems toughness and flexibility. Bamboo stem extract selected for DOLUPERINE balm concentrates more than 80 % of this precious mineral, really finely micronized silica in order to give the product a soft touch, a comfortable spreading, and a faster balm penetration. Bamboo then brings 5 times more silica than green clay, to which it gives a lot of its benefits. Bamboo vegetal silica being very absorbent, it's an excellent natural support for other associated active principles.

TURMERIC
In Ayur-Vedic tradition, probably the oldest healthcare tradition of human being, Turmeric is widely used for body massages too, associated to differents greasy substances. This highly-curcumin-concentrated extract is associated here for its benefits to shea butter which provides too a perfect skin penetration.

Essential oils
Very rich in powerful salicylate, fragrant and preicous wintergreen essential oil, is combined to ginger oil that has a lots of benefits. It is so effective for joints comfort, it makes sportsmen recover faster with a massage after effort. These two essential oils combined together are advised too for people that wish they optimize their muscular and articular comfort, in association with DOLUPERINE and ARTROLISTIC capsules.

rosemary extract
Especially made for Holistica with an unique extraction process, it's a natural antioxidant that provides its vegetal color to the balm and ensures its purity longer. Native from Mediterranean basin, Rosemary is the subject of numerous historical mentions. The elderly were yielding a huge veneration to Rosemary. History shown that Hungary queen was using it for the comfort of her joints when she was more than 70 years old. .

airless TUBE packaging
Latest generation tube made to protect formula and its active principles from oxidation by oxygen. This innovative process avoids preservatives use as the balm is not in touch with air during its conservation.
Related products