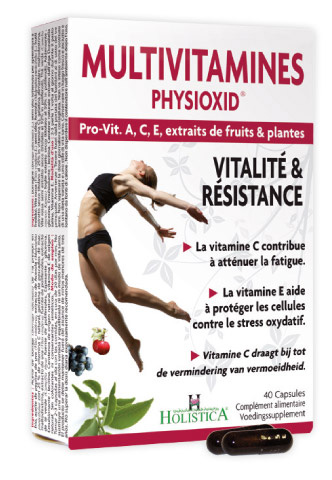 Food supplement
40 capsules Box
N° ACL 3401578851488
Multivitamins Physioxid
NATURAL FRUIT VITAMINS & POLYPHENOLS
Natural vitamins C, E, grape and Green tea polyphenols and herbal provitamin A
Natural carotenes are precursors of Vitamin-A that contribute to the maintenance of normal skin & vision
Vitamin c helps REDUCE TIREDNESS
vitamin c helps maintain collagen function AND INCREASES IRON ABSORPTION
Vitamin E contributes to protect cells from oxidative stress
PHYSIOXID®, recommended for preserving our physiology from oxidation and ageing and for maintaining good cell dynamics, supplies a synergistic combination of antioxidants 100% of vegetable origin: grape polyphenols, green tea, vitamins C, E and natural carotenes are combined for their complementary action against free radicals. The PHYSIOXID® marine gelatin capsules meet the need for antioxidants of natural origin that are preferred to the first-generation synthetic antioxidants with lower bioavailability.

Ingredients
Cold-pressed deodorized Borage oil (Borago officinalis), acerola extract (Malpighia punicifolia), grape seed oil (Vitis vinifera), fish gelatin capsule, thickener: beewax, grape extract (Vitis vinifera), green tea extract (Camellia sinensis), natural source carotenes (Dunaliella salina), natural source vitamin E.
Directions for use
2 to 3 capsules daily during meal for 20 days per month. To be used as a complement to a diversified diet necessary for good nutritional balance or as recommended by a health care practitioner.
3 capsules of PHYSIOXID® supply 100% of the Nutrient Reference Values of Vitamin E.
Natural origin components

VITAMIN C - RICH EXTRACT OF ACEROLA
20 times more concentrated than orange or lemon in Vitamin C, the concentrated formula contained in this small cherry can satisfy 100% of the daily requirements of this vitamin with only two capsules. This natural vitamin C, together with its nutritional cofactors supplied by the fruit, takes part in the make-up of supporting collagen function and tissues. As a major co factor antioxidant, natural vitamin C participates in the protection of connective tissues.

GRAPE EXTRACT, A SOURCE OF POLYPHENOLS
For several years, researchers have been interested in grape polyphenols which they have identified as potent antioxidants that protect our physiology against free radicals. Although wine prepared from grapes is a significant source, this total extract supplies in concentrated form all of its protective micronutrients (Polyphenols including OPC, Anthocyans, etc.) and provides the benefits that wine derives from grape seeds, but without the drawbacks of alcohol consumption.

GREEN TEA EXTRACT, A SOURCE OF POLYPHENOLS
This total extract of green tea supplies in concentrated form all of its antioxidant micronutrients, polyphenols that complete the ones supplied by grape extract, such as catechins that have demonstrated their role as free radical scavengers. These nutrients which in particular help to protect against undesirable fats, account for the fact that green tea has had a reputation for centuries in Asia as an invaluable ally of longevity.

NATURAL CAROTENE
Carotenes extracted in this case from Dunaliella salina algae, are nutrients to be used as provitamin A, which is to say that they are converted to vitamin A in the body according to the body's needs. It is important for our vision and it contributes to the integrity of tissues and notably the skin.

NATURAL VITAMIN E
This natural Vitamin E, one of the best known antioxidants, is extracted from vegetable oils, unlike synthetic vitamin E, and has a structure that is perfectly suited to the protection of cell membranes.
Related products