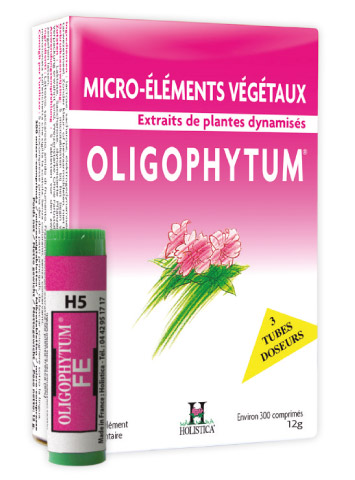 3 tubes per Box - About 300 microtablets.
Oligophytum
TO UP YOUR ENERGY LEVEL WITH HERBAL TRACE ELEMENTS
range of 20 natural trace elements to be dissolved under the tongue
Entretien du terrain en phyto-elements.
OLIGOPHYTUMS contain no artificial minerals, no chemicals, no preservatives, synthetic colours nor flavourings.
practical form (ideal for children) 300 sublingual microtablets
TRACE ELEMENTS EXTRACTED FROM PLANTS
OLIGOPHYTUM® is the first trace element range presented in an easily assimilated micro-tablet form to be dissolved under the tongue (granules). This new, original and practical form ensures that the trace elements enter completely and directly into the bloodstream, avoiding the digestive tract. The underside of the tongue contains a great many fine blood vessels and is an ideal channel for penetration into the organism.
The OLIGOPHYTUM® trace elements are extracted from plants and the way of assimilation allows small quantities to be very efficient.
ADVICE FOR USE AND RECOMMENDED DOSE
Each OLIGOPHYTUM® pack contains three dispenser tubes containing approximately 100 micro-tablets each for three 10-day courses with pauses of one week between each course. The three-tube pack provides you with the supplementary intake of the trace element (or complex) you require.
The OLIGOPHYTUM® tube is small and can easily be slipped into your bag so you can always carry it with you. It is simple and hygienic. Just turn the tube with its transparent stopper downwards and turn the stopper until the micro-tablets drop down one by one.
Directions for use
To be taken, preferably, on an empty stomach: 5 micro-tablets in the morning and 5 before the evening meal. Simply empty the micro-tablets from the transparent stopper directly in the mouth, under the tongue.
Liste des Oligophytums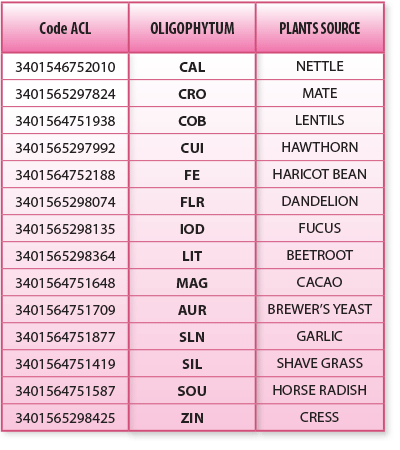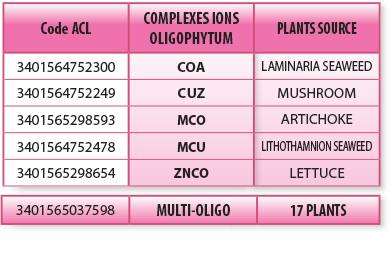 Important : Multi-Oligo is an association of 17 plants in one box of 3 tubes (about 300 sublingual microtablets).
Related products