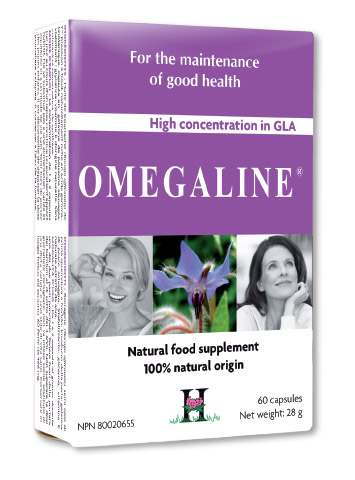 Food supplement
Bof of 60 capsules 1 Box = 2 months
N° ACL 3401571472901
Jar of 120 capsules 1 Jar = 4 months
N° ACL 3401571472840

Omégaline
TRUE BEAUTY FROM THE INSIDE OUT
Strong Borage oil concentrated in Gamma-linolenic acid (22-25%), omega 6 (60%)
A MAJOR DISCOVERY FOR PRESERVING SKIN'S YOUTHFUL APPEARANCE
Researchers have recently shown that, although human beings in good health have no problem producing good prostaglandins, ageing people (as from 35) have more and more difficulty in producing PG1. There are many reasons for this: stress, diabetes, certain enzymatic deficiencies, certain hepatic disorders or side-effects and many other causes. The ability of the cells in our body to produce PG1 prostaglandin normally is fundamental for the balance and health of our whole organism. It ensures that immunitary phenomena occurs normally as these become deficient in the case of lack of PG1 prostaglandin. Researchers thought that by providing gamma-linolenic acid by ingestion for organisms that could not produce it themselves, the formation of PG1 would be restored and, at the same time, the physiological and metabolic disorders accompanying this deficiency would be cured.
BORAGE OIL AND CHILDREN
It seems that borage oil is particularly advisable for overexcitable children. These children do have a deficiency in gamma-linolenic acid. Borage oil can also usefully be taken during periods of intense activity during studying and exams. Gamma-linolenic acid is involved in the regeneration of membrane phospholipids of nerve cells.
Ingredients
Natural virgin borage oil extracted by first cold pressing (22-25% of GLA) (Borago off.), natural vitamin E, humectant: glycerin. Fish gelatin capsule.
Directions for use
1 or 2 capsules a day during meals, depending on age.
Natural origin components

BORAGE OIL, A RARE AND PRECIOUS OIL SOURCE OF UNSATURATED G.L.A.
At the end of the last century, Dr E. Baruck had been struck by the youthfulness of the faces of southern French women. He reported that he had seen them applying borage oil to their faces and adding it to their food. The role of essential fatty acids has been better understood for some years. We know that human beings couldn't live without them. Like most vegetable oils extracted by first pressing, borage oil is rich in essential fatty acids. Gamma-linolenic acid is so rare that it now exists in sufficient quantities only in two plants: Primrose and, above all, Borage which has a content of between 16 and 25%.
"The beneficial effect of this substance can be extraordinary and of great benefit to ageing organisms" (Dr Kousmine, "Save your Body").

PROSTAGLANDINS
Researchers have succeeded in acquiring a better understanding of the operation mechanism of the gammalinolenic acid. They succeeded in isolating the "substances" derived from essential fatty acids and which help the whole organism to function. They decided to call these molecules "prostaglandins". There are good prostaglandins (PG1), and prostaglandins which, if they are not "bad", are at least more harmful (PG2).
Related products