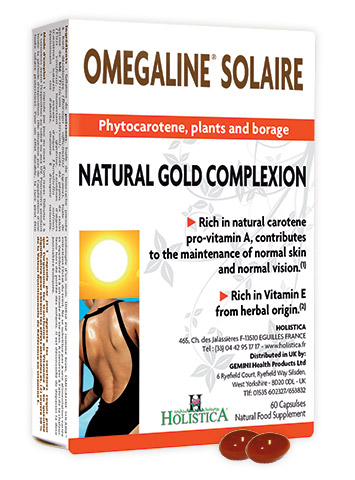 Food supplement
Box of 60 capsules 1 Box = 2 months
N° ACL 3401572264925

Omegaline solaire
Natural gold complexion
Rich in natural carotene provitamin A, contributes to the maintenance of normal skin and normal vision.(1)
Rich in Vitamin E from herbal origin.(2)
OMEGALINE® SOLAIRE helps acquire and optimise a nice sun tan in harmony with the skin natural colour, with a slightly golden or brownish-copper shade, according to skin type, rather than an orange-like colour as the first generation synthetic carotenoids provided.
All types of skins are concerned. OMEGALINE® SOLAIRE when applied on dark skin helps acquire a more intense and bright tan. With fair skins, it protects against the sun and helps acquire an even tan by contributing to the melanin production. Its anti-oxidant and protective formula contributes to preventing premature ageing of the skin. It also allows to appreciate the sun's beneficial effects and to optimise the UV sessions.
With OMEGALINE® SOLAIRE, it is possible to obtain a nice sun tan in less time, while reducing the frequency and duration of sun bathing sessions. A sun tan oil should be applied in addition. OMEGALINE® SOLAIRE can be used all year round, at the sea or at the mountain, as well as by sportsmen and women, and particularly exposed professionals.
Ingredients
Fish gelatin capsule, cold pressed borage oil deodorized (Borago officinalis), wheat germ oil (Triticum aestivum), grape pip oil (Vitis vinifera), humectant: glycerin, natural seaweed carotene extract (Dunaliella salina), thickener: beeswax, natural source vitamin E.
Directions for use
Take 1 capsule per day while eating. Start 2 to 3 weeks before sun exposure and continue during the entire exposure period. Do not avoid the application of a protective tanning oil. For a sustainable effect. The cure must be extended for another month. Used regularly, OMEGALINE® SOLAIRE will give you a bright and healthy looking skin, even without sun. A varied balanced diet and healthy lifestyle are important. This is a food supplement and should not be used as a substitute. Do not exceed the stated recommended daily dose. Keep in a cool place.
(1) 1 capsule a day brings carotenes required so that the body converts in vitamin A in significant quantities to obtain the expected effects and (2) covers 58% of the vitamin E Nutrient Reference Value.
Natural origin components

SEAWEED PHYTOCAROTENE
Real skin beauty vitamin, this natural carotene, extracted from seaweed, is turned in the body into natural provitamin A that helps maintain optimal skin and vision including when exposed to summer U.V. light. While protecting the skin against free radicals, it activates the skin's brightness and offers a nice soft tanned complexion.

WHEAT GERM OIL - GRAPE SEED OIL
Thanks to its high level of vitamin E, and of essential and unsaturated fatty acids, the wheat germ oil contributes to keeping a light and bright skin. The polyunsaturated fatty acids of the grape seed oil helps maintain the skin membrane barrier function.

PURE BORAGE OIL
Borage seeds are naturally very rich in gamma-linolenic acid and fatty acids essential to the F vitamin function. Natural constituents of the cell membrane, they maintain the skin litheness and youth by favouring hydration. Precursors of certain prostaglandins, they play a fully active role in skin regeneration.

NATURAL VITAMINE E
It prevents tissue ageing by fighting against the free radicals and protecting cells from oxidation. Its natural origin helps it to be assimilated in a much better way by the body as opposed to synthetic vitamin E.
Related products